Incoming regional councillors plan to reverse controversial decision
Posted Nov 14, 2022 01:20:22 PM.
Incoming Region of Waterloo council members will have an opportunity to rescind a last minute vote by outgoing councillors to receive health benefits for life upon their exit from council.
The controversial decision was voted on at a committee meeting last week and would need to be ratified by the new council later this month. 
But incoming councillor for Kitchener, Robert Deutschman posted on Twitter a few days after the vote that he will be putting forth a motion on the first meeting of the new council to repeal the decision. 
"I have no doubt this will be reversed," wrote Deutschman. "I will be following up with the regional chair and CAO to ensure that no steps are taken with respect to the benefits decision until the new councils has had an opportunity to reconsider."
Along with Deutschman, first-time mayor for Waterloo, Dorothy McCabe and newly elected regional councillor for Cambridge, Doug Craig, have joined the growing list of councillors questioning the decision.
"Outgoing regional council made this decision. Not the newly elected council. We start Nov. 15," McCabe wrote in a tweet.
Craig confirmed to CambridgeToday in an email, he would vote to repeal the decision if it came to the table. Although he doesn't question the motives of his predecessors, the lack of public consultation and review is the main concern for Craig
"Any decision dealing with compensation for elected officials should come from a citizen's group and it must be structured to be voted on before an election, not after," Craig said.
The people of Waterloo region did not respond well to the idea of picking up the tab for councillors after they leave office. 
Helen Jowett, regional councillor for Cambridge voted in favor of the motion and took to social media to defend her position. She went on to say, "the system uses optics and public opinion to maintain the lowest cost for those who represent our people locally."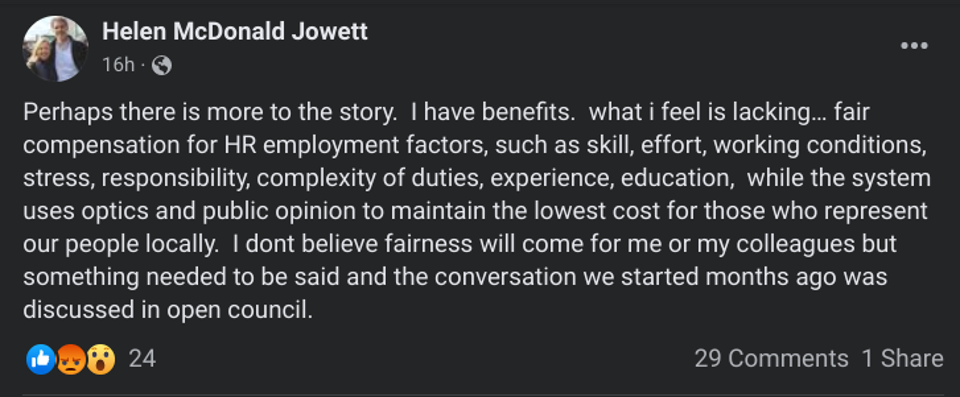 One user took to the post to challenge her on her vote and asked for a list of public sector employers who continue to give lifetime benefits after an employee leaves.  
"It seemed like you all just voted yourselves lifetime benefits on the way out the door," wrote Iain Davidson on Jowett's post. 
She replied, "negotiations start hard." 
Others gave their opinions on the timing of the decision and questioned the motives behind the councillors.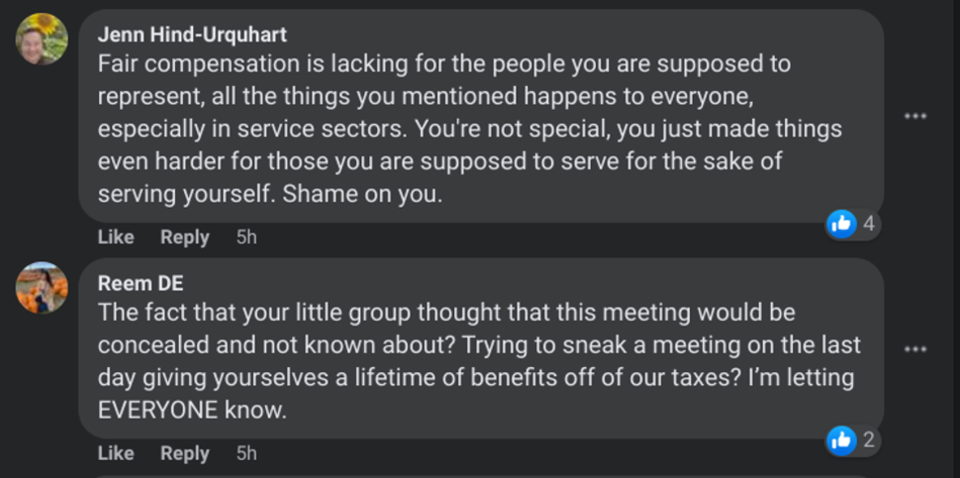 Waterloo Regional councillor Sean Strickland who has long served Waterloo moved the motion and compared the extension of benefits to what many Ontario municipalities are doing. 
"This is not precedent setting. Many municipalities in Ontario have extended health benefits for councillors," said Strickland in his appeal to council. 
In a vote of 9-7, councillors voted to approve a motion that would see present and future council members receive free dental benefits, supplementary health-care costs, life insurance, and out-of-province health insurance for the remainder of life.
Remuneration for elected officials is ultimately decided by council. However, public consultation is standard through a remuneration advisory committee that reviews comparable rates of compensation and provides a recommendation. Council then deliberates before a decision is made. 
For this vote, no public consultation was made and Strickland attributes this to the "hurley and burley" of the last few years. 
Base remuneration for regional councillors is $43,731 a year for a job that is considered part time. Regional councillors who are chairs of standing committees receive $50,294. The regional chair's salary is $159,244.
During their term of office, members of council are eligible for extended health coverage, including prescription drugs, vision care, paramedical coverage; dental coverage; life insurance, and accidental death and dismemberment insurance.
Benefit costs per councillor have previously been in the range of about $5,000 annually.
Members of council also participate in the Ontario Municipal Employees Retirement System (OMERS) during their elected service. OMERS is a defined benefit pension plan financed by equal contributions from the region and each council member.
Cambridge Mayor Kathryn McGarry who is at the end of her term for regional council and lost her bid for re-election last month, voted in favor of the motion because of what she called the target put on politicians' backs. 
"There's many in the public who target politicians on any level," said McGarry. "The truth is that staff get paid much more over the time we are looking at."
She points out that remuneration and benefits took place when she assumed office in 2018, but her senior management team has made double what she has earned over that time. 
She also acknowledges the things elected officials give up in order to participate in public service and wants to make their lives easier after their terms. 
"It's time that we properly remunerate our politicians and that we give them some dignity at the end of their careers," she said. 
Regional chair Karen Redman, who is set to reprise her role when the new term begins this week, voted against the call for lifetime benefits, saying it is a timing issue. 
"I would like to see community input, I would like to see a rigorous discussion much more broadly than benefits," said Redman. 
She noted this is something that is normally done for the current council and needs more deliberation and public consultation. 
Another outgoing Cambridge councillor, Karl Kiefer, was in favor of the motion, saying this is their opportunity to be leaders around the province and help set a standard. 
"I think this is the cost of doing good business," he said. "Yeah, we're going to benefit from this, but so will others." 
For those that voted against the motion, the reasoning was bad timing and lack of public input. Councillors against the motion included: Redman,  Erb, Vrbanovic, Foxton, Galloway, Clarke, and Shantz.
Those in favour of the lifetime benefits were: Strickland, Jaworsky, Kiefer, McGarry, Jowett, Nowak, Armstrong, Harris and Lorentz.
Craig and the new council will be sworn into office during the inaugural council meeting Nov. 23.