The pandemic has been life-altering for people in several ways. One of which was the realization of how quickly our day-to-day lives can change.
For those receiving services from Community Support Connections in Waterloo Region, it means more people understand the importance of them needing support for everyday living.
"We've seen new volunteers coming in, we've seen new donors coming in, people are paying attention to older adults and their needs and I think in part because people could relate to the isolation some of our clients experience now that everyone else was kind of at place in home as well," said Rosalind Horne, Major Gifts and Engagement Lead for Community Support Connections in Waterloo Region.
Community Support Connections provides services to promote independence and well-being
Community Support Connections offers services to those who need support to live independently in their homes. Horne said they serve older adults and those with different abilities for people in their 20's through to centenarians, each with a unique set of circumstances.
"People frequently come to us because of physical limitations or chronic conditions, but we have people coming to us because of cognitive issues, mental health issues and sometimes we get younger people," she said.
All their services are personalized to meet individuals needs. Whether someone is looking for wellness in their lives through nutrition or fitness, maintaining their social well-being, needing meals or help around the house, it can be provided.
"We don't have really strict eligibility criteria," Horne added. "If the service is going to enable someone to stay in their own home we want to be able to help them, if it's going to empower someone to be able to live in their own home with independence and dignity that's our mission."
They have a variety of exercise programs including group classes in over 90 sites in Waterloo Region, and one-on-one programs where a trained volunteer or staff will work with someone in their home, with virtual options currently being offered. They also have meal and grocery delivery, offer transportation to medical appointments, and a friendly visitor program for social support. All these services help people maintain their overall well-being.
"We can help people maintain the quality of life that they're looking for so they're able to manage chronic conditions or just help to maintain or improve their fitness level, ensure that they're eating well so that they can continue to go out and socialize with friends and redirect their energy to things that they want to be doing…" Horne said.
Volunteers and donors are essential to providing services to over 7,000 people across Waterloo
While the pandemic has been challenging, Horne said there was a silver lining as those who were working from home became new volunteers. They've also had new business donors, like Dietrich Law, that has been generous in supporting their client services and marketing campaigns.
However, with the province opening up, more volunteers and donors are needed, Horne said. This is due to emergency funding drying up and in-person fundraisers being cancelled, and as more in-person services open up and with online classes ongoing, volunteers are crucial as they provide the bulk of service delivery.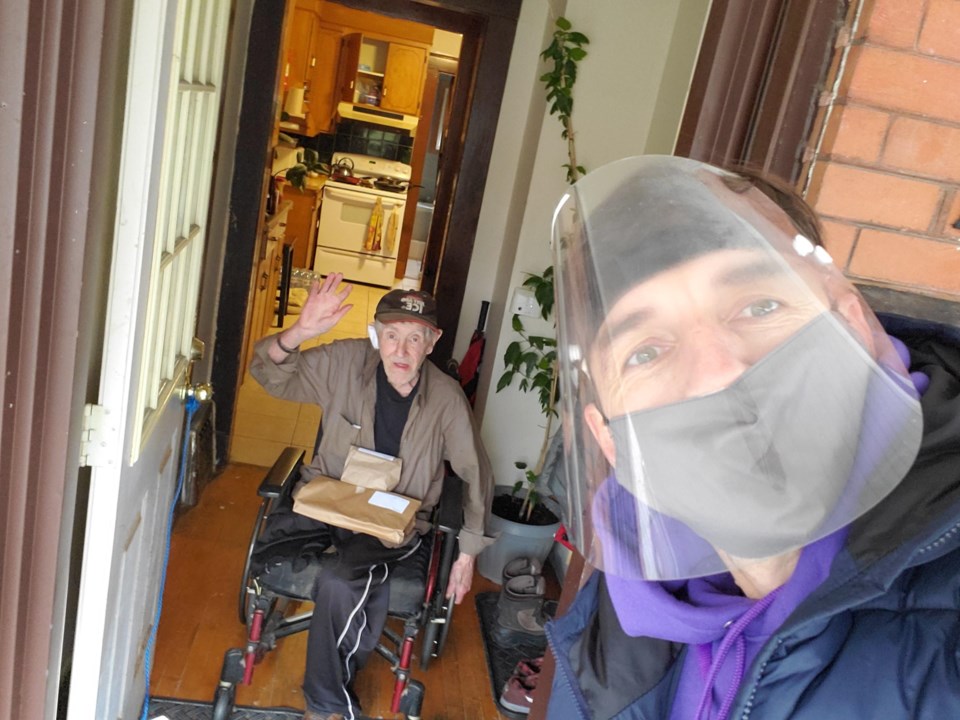 A volunteer with Community Support Connections delivering a hot, nutritious meal to a member of Waterloo Region's older adult population (supplied photo)
"Whether they're delivering meals, dropping off groceries, taking someone to a medical appointment, leading our exercise programs, friendly visiting…we typically have about 700 volunteers per year that are helping to support over 7,000 clients," she said.
While they're appreciative of the support they have received, Horne said the need is ongoing.
"Our cost of providing services is still significantly increased with the increased cleaning, sanitation and PPE…so we can always use donations to make sure we can continue to keep up the demand as our population ages as well."
If you want to learn more about Community Support Connections, contact them today! To learn more about how you can get involved call 519-772-8787 or follow them on Facebook.