If there is one thing this pandemic has taught us, it is to appreciate and indulge more mindfully in the things that bring us joy and comfort, as well as the importance of community as a space or a group of people that we can turn to in times of need.
When Ignite Group of Brands owners Willy Huber, Ryan Lloyd-Craig, and Neil Huber initially thought about opening their newest restaurant Crowsfoot Smokehaus in early 2020, just like the rest of the world, they could not predict what was coming ahead. With a dedication to serving their community along with a lot of hard work to help carry their strong vision, they have managed to keep their business afloat and thriving despite these unprecedented and challenging times.
Located in the small town of Conestogo, Ontario, Crowsfoot Smokehaus offers a unique take on southern-style smokehouse barbecue combined with traditional German comfort food. The restaurant stands on one of the oldest venue sites in the region; settled by Mennonites and German immigrants in the 1820s, the farming town has had a continued tradition of serving great food in a comfortable and welcoming atmosphere. This is a tradition that Crowsfoot intends to carry forward into a bright new future.
Whether you're in the mood for a perfectly smoked brisket fresh from the barbecue pit, house-made schnitzel and spätzle, or a freshly poured local craft beer or cider from one of their 24 draft taps, you will find what you're craving at Crowsfoot Smokehaus. Not to mention the very warm, authentic and slick interior design that will make you feel at ease and welcomed every bite or sip of the way.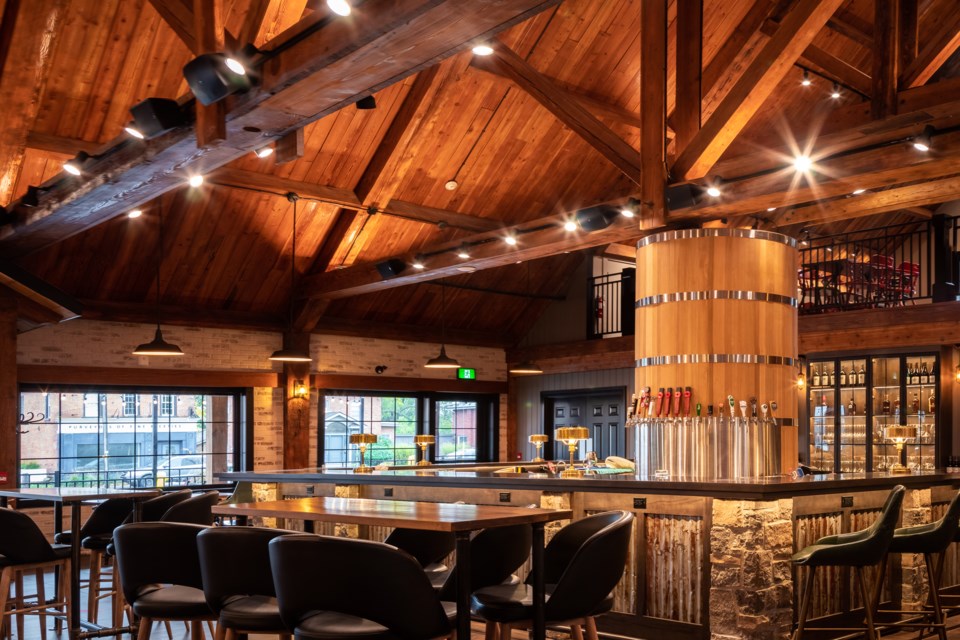 To achieve the perfectly smoked meats found throughout their menu, the restaurant relies heavily on a secret weapon: two Oyler Barbecue Pit 1300 smokers imported from Texas, which are widely known to be the best smokers in the world. It's said that only four restaurants in all of Canada have these smokers, with Crowsfoot being the only one in the region. The smoking process takes between 12–16 hours, and produces up to 1800 pounds of meat per load using pure wood as fuel. By sourcing fresh meats and ingredients from farms and suppliers across the region, Crowsfoot continually strives to support local farmers and business at every possible opportunity.
Attached to the restaurant, Crowsfoot also has its own on-site General Store, which carries an array of groceries and everyday essentials. There you will find a collection of local produce, fresh baked goods made in-house or by local suppliers, local products (sauces, jams, honeys, etc.), artisanal goods such as pottery and knitwear, cooking supplies, and cocktail kits. "Designed to be especially convenient for local residents living in and around Conestogo, Crowsfoot General Store is a one-stop neighbourhood shop for everyday essentials that saves people a trip into the city, as well as offering the opportunity to directly support our many amazing local businesses," says Joschka Sawatzky, Creative Director for Ignite Group of Brands, the family-owned hospitality group that includes Crowsfoot Smokehaus, two other restaurants, a brewery, a coffee shop, and various retail product lines.
Despite opening in the middle of the COVID-19 pandemic and operating through constantly tumultuous times, the concept of giving back to the community has not been lost by the establishment; Crowsfoot works in partnership with the Kitchener Waterloo Community Foundation to continuously support various local organizations through different charitable initiatives.
If you're in the Kitchener area, visit this one-stop-shop for customers to enjoy a hearty, delicious meal and stock up on groceries, while also supporting the many local farmers and vendors of the region. The restaurant offers indoor dining for customers at limited capacity, as well as takeout with online ordering seven days a week. We recommend that you make a reservation in advance of your visit, either directly from their website or by calling the restaurant at (519) 206-2111.