This holiday season United Way Waterloo Region Communities needs your help to meet local community needs to ensure everyone has a warm place to call home.
After 80 years of providing funding to hundreds of local non-profit organizations, United Way Waterloo Region Communities (UWWRC) continues to fund local organizations but has had to re-shape how they fundraise and invest in the community.
Since the pandemic, needs have increased in many sectors. The number of people experiencing housing insecurity and homelessness in Waterloo Region and in Canada has risen during the pandemic due to reduced capacity at shelters, COVID-19 physical distancing protocols and the jump in housing costs.
"The pandemic did provide a sharper lens to the disparities and social inequities in our respective communities. Although awareness levels have increased to some degree, the needs have increased as well. We really need to ensure the money required is there and support services are available for those who need them now and will continue to need them post-pandemic," said Joan Fisk, CEO for UWWRC.
Prioritizing need
Covid changed the funding model for United Way, which used to grant funds on an annual basis, but now has moved to quarterly periods to disperse funds faster and more often to agencies. Change and adapting throughout the pandemic often had to be done at "breakneck speed," admits Fisk.
Increased reporting and needs assessments allow United Way to keep in closer touch with the community.
"Like many communities there was already economic disparity and inequities. Since the pandemic, many issues have been exasperated and there has been a domino effect. Insecure housing doesn't just mean you may lose your home, it can also mean basic needs are not being met or mental health issues arise due to ongoing stress. There's always a gap in terms of financial support requested and what we have to fund because the need is so great," admits Hilary McCann, Senior Director of Marketing and Communications for UWWRC.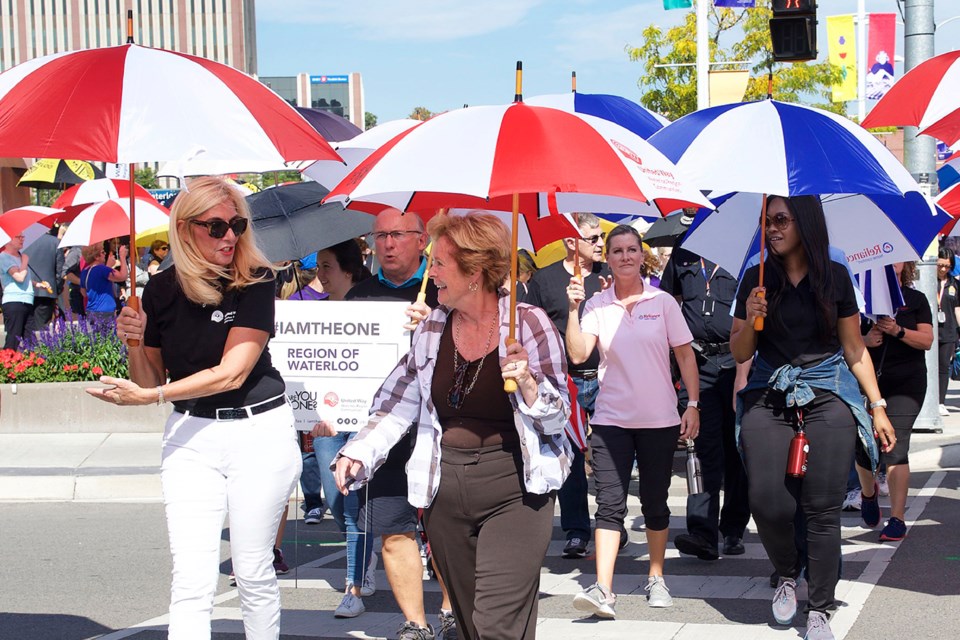 For years, United Way has had three priority areas for funding based on existing or emerging needs in Waterloo Region. Presently, they focus on basic needs, mental health, and social isolation. This criteria is established by stakeholders, local agencies and community input. In response, UWWRC has developed new "targeted funds" that allow monies to be raised and dispersed quickly to agencies providing support in these areas.
Lockdowns due to the pandemic left many teens and youth at "loose ends" for the summer, said McCann. In the spring United Way raised approximately $62,000 for children through its
Summer Survival Fund, which were allocated to organizations providing services, such as summer camp, recreational activities, mental health, and leadership development programs.
A recent 80 for 80th Virtual Auction commemorated United Way's 80 years in the region and kicked off the traditional campaign period raising more than $14,000, thanks to many items and gifts donated by sponsors and donors.
In a recent funding round, United Way granted $724,895, but local agencies requests amounted to over $1.5 million. "The ask is always bigger than what we can fund, which is a reflection of how great the need is." UWWRC is now consistent in its messaging and making the public aware of the shortfall in available funds, as well as the impact of the donations and how the dollars are spent in the community.
Holiday giving and future campaigns
"Historically people give more during the holiday season. We have developed a Holiday Giving campaign that allows us once again to focus on what is needed now in Waterloo Region," said a hopeful McCann.
The Preventing Homelessness campaign runs from Dec. 13 to 31. Homelessness prevention and housing support is a critical issue in our community, highlighted lately with the recent fire and temporary closing of House of Friendship, a local men's shelter. Through the generosity of a group of anonymous donors, UWWRC has managed to provide matching funds and double the impact of every dollar.
Since the pandemic, almost all the campaigns taking place in workplaces have gone virtual. United Way has generated many more videos illustrating the "work on the ground" of local agencies, and the personal, often heartfelt stories of their clients so that the public and potential funders can better understand the issues, magnitude of the problem and see their donations at work.
In the past, United Way has held marches with about 700 participants to kick-off the fall campaign, but for now, all events will remain virtual. In future, as the pandemic becomes less of a health threat, McCann ultimately hopes the needs of the community are less critical, some normalcy returns along with in-person events, which helps harness the energy of people coming together to benefit the community.
However, she doesn't believe the virtual, campaigns will lessen much, until everyone feels completely safe. Future events may be more "hybrid," she noted, but it will depend on how managers choose to fundraise in their respective workplace settings.
The reputation of United Way is unequivocally sound. McCann is proud to point out during Covid, the federal government entrusted them to distribute millions of dollars in emergency funds to the many agencies and non-profits across Canada, including Waterloo Region.
For those interested in helping United Way recover and rebuild a stronger Waterloo Region, please go the www.uwaywrc.ca to donate. There are also links if you want to volunteer, as well as those illustrating the impact you can make by donating.
Let's help everyone have a home for the holidays- please give generously!