Golfplay is making golf fun for everyone
Posted Dec 19, 2022 12:00:00 PM.
Steve Harris, President and founder of Golfplay, said he wanted to pair the sport of golf with a great entertainment experience, including a friendly, upscale environment, good service, great food, and the best simulator technology so that everyone could join in and have a fun time.
"I've discovered that most indoor golf places out there focus on the avid golfers, and so it only attracts the fringes of the golf community," Harris said.
"There are a lot of casual golfers out there that enjoy the game as well, and a lot of the enjoyment comes from the social side of playing with your friends. So I think we are tapping into a whole other part of the market where it's sort of bowling meets golf — the golf leagues we run are very popular."
Popular with experienced golfers and beginners alike, Harris said this is an excellent option for people who are curious about golf but may be intimidated by the game. Golfplay offers an opportunity for the "golf-curious" to try out the sport in a friendly, low-pressure environment where there's never anyone asking to "play through."
"We try to make it more friendly, fun, and not so serious and focused on performance. We focus more on the game's social side – giving opportunities for people to get together, see their friends and play a very realistic, challenging round of golf while enjoying great food and drink."
Golfplay and what you can expect 
To help demystify Golfplay, here are some common questions Harris gets from first-timers. 
Do I need to bring my own clubs?
Although most of his customers bring their own clubs, rentals are available. And because of how the simulator is set up, you can easily share one set with other people without slowing you down. 
Is there a dress code?
Like other activity venues, the dress code is casual. You can dress up in your golfing best, golf shoes and all, or come pub-casual. 
What if I've never held or swung a club before?
If you're a first-timer, the staff will walk you through everything you need to know to get started on the simulator. If you want to get some playing tips, Golfplay will offer fun and approachable golf lessons and beginner clinics in their new Waterloo facility, which includes an indoor driving range and a 2,500 sq foot putting green with the social atmosphere and friendly approach they're known for. 
What are the simulated courses like?
Harris said players would typically warm up by hitting a few balls on the virtual driving range before selecting from over 190 real golf courses around the world and a handful of fantasy courses ranging from super fun and beginner-friendly to punishingly challenging. 
"Our goal is to make sure everybody has fun. And it's no fun if you're always going out of bounds or, you know, struggling to finish the round. So, we try to match the experience to the level of the golfers."
Like bowling, The Golfplay bays are charged based on a per-hour rate – not per person, with the time split between the players depending on the day of week and time of day. Rates range from $30 – $60 per hour. Reservations should be made in advance as evenings and weekends can get very busy. If you're wondering how much time you should book, it takes about an hour per person to finish 18 rounds of golf, so two people should book two hours and so on. 
"One of the key features of our technology is our auto-tee feature, where the ball automatically tees itself, so it pops right out of the floor already on the tee. There is no need to chase the ball after you hit it and re-tee it. The next ball automatically pops up, ready to go for you or the next person. And so it goes quite quickly. That's a key feature that our customers appreciate."
Above all, for beginners, Harris said to relax, have fun and not feel intimidated.
Enjoy a beverage or one of the stone-oven pizzas; if you have a poor shot, there's always the Mulligan button! The simulators provide great technical feedback on each shot which helps you learn the game faster than if you were learning outdoors.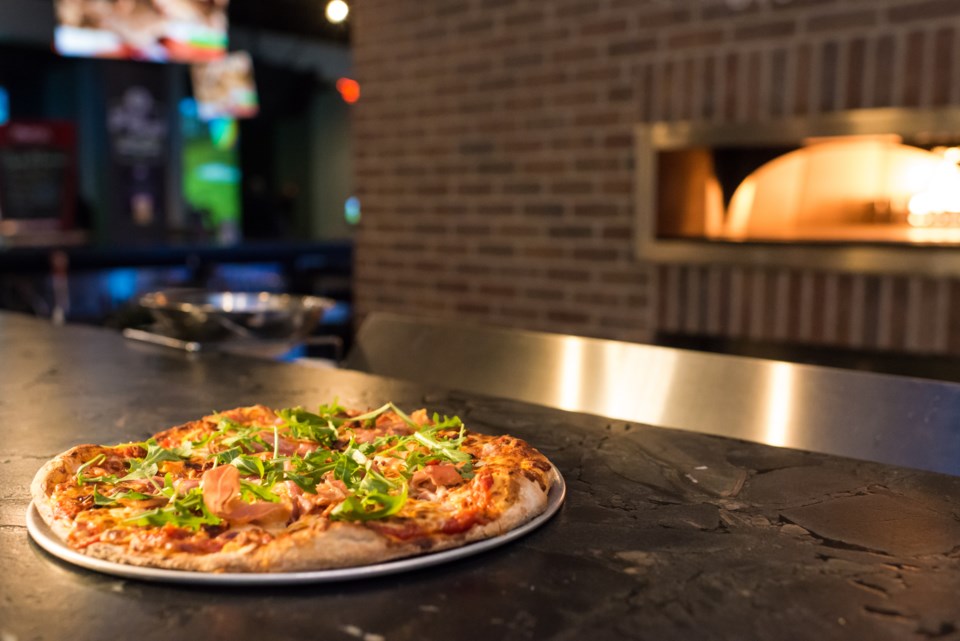 "If you're a beginner, don't worry about if people will be looking at you as you learn. Once you're settled in your bay, pretty quickly, you realize that it's a great and fun way to get introduced to the game."
Golfplay has a new location under construction in Waterloo with a tentative opening date of mid-January.
Contact him today with questions, book your next work event, or reserve a bay now.