"Labour of love," and local Christmas tradition, the St. John's Pudding Factory will return in full force for the 2022 holiday season.
Run by the St. John Evangelist Church in Kitchener, the organization has made their Christmas puddings for "well over 70 years." While the church itself is over 200 years old, the original recipe came from an English parishioner nearly a century ago.
"We call it a Pudding Factory because, like a factory, if one job isn't done properly, the next one ruins it," said co-coordinator Judy Shantz, who has helped run the event for almost 50 years.
Steamed for hours and traditionally lit at Christmas time, the brandy-and-fruit cake was made popular through Charles Dickens' A Christmas Carol in 1843 according to Shantz.
"In half a minute Mrs. Cratchit entered: flushed, but smiling proudly: with the pudding, like a speckled cannon-ball, so hard and firm, blazing in half of half-a-quartern of ignited brandy, and bedight with Christmas holly stuck into the top," reads an excerpt from the classic Christmas tale.
As she goes away for the winter season, the November event allows Shantz to experience a community Christmas in a more traditional setting. And she's not alone; one parishioner's son was serving overseas over the holidays so the organization sent him a pudding, one of many fond memories Shantz has.
"When I was in the church office many years ago I used to have one person who never came to church, but she would call me and say 'When's the Pudding Factory, I have to come out for the Pudding Factory' because she enjoyed the camaraderie," said Shantz. "There's so much time to enjoy and get to know your fellow parishioners…or just come out to make a Christmas pudding."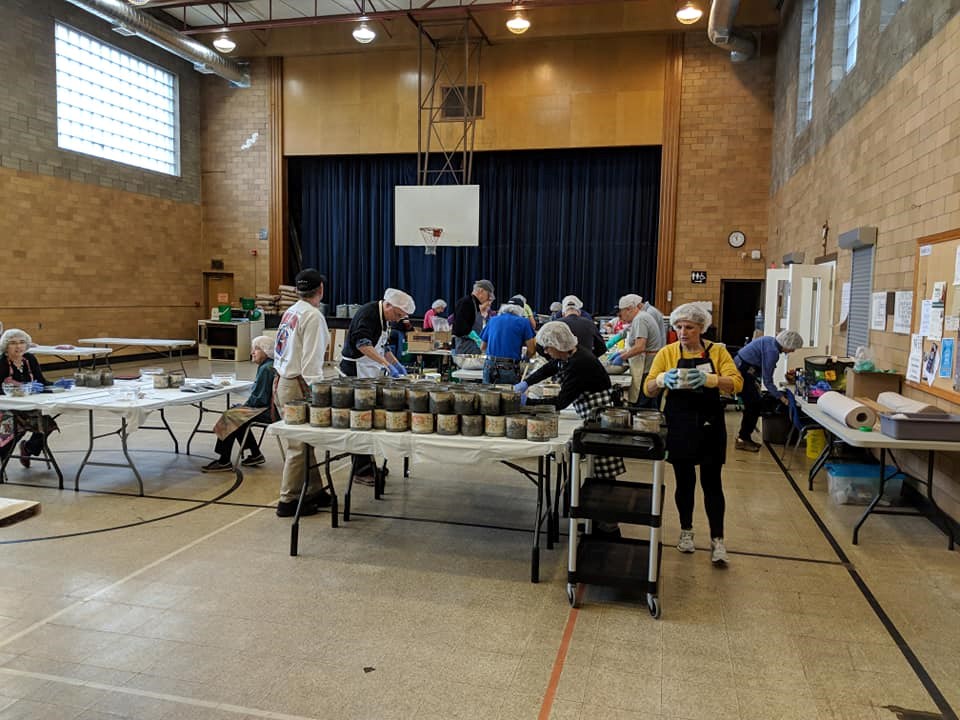 The holiday event annually features 40 to 50 volunteers- simple cogs in a pudding-making machine, surrounded by the smells of seasonal spice and cheerful conversation.
As a result, the Pudding Factory made 4000 lbs of Christmas pudding at its peak according to Shantz. However, during pandemic restrictions, the organization was only able to make 600 lbs as a result of social distancing. This year, the factory will nearly triple that with 1500 lbs at a new cost.
"We haven't raised the price in the last eight or nine years but it was necessary," said Shantz. "We also didn't have anything left over from last year so we had to buy all new ingredients for this delicious pudding."
Shantz accepted a larger role as convener after she retired nearly 16 years ago but will share her role with two others this year, whom she hopes will carry on the tradition.
Production takes place during Pudding Week, from November 7 to 10. Orders are $15.00/lb and can be placed on their website.